How long it takes to pack a house or apartment is a common question for packers and movers. The answer varies depending on the size of the home, as you could have predicted. Given that, we reasoned that by telling you roughly how long it takes to pack a three-bedroom house, you may estimate how long it will take to pack your house for a move.
A 3 BHK typically requires three to five days to pack. Remember that you won't be packing for just a few hours at a time; you'll be doing it for around 3-5 days, with breaks for sleep, of course. Packing can occasionally be quick and simple. For instance, dressers can be wrapped, saving you the trouble of packing your clothing. Additionally, you can simply take the hanging garments out of your closet and hang them in the wardrobe box to relocate your apparel into a wardrobe box.
Breakable things like plates, vases, ornaments made of glass or porcelain, etc. are harder to pack. Each item needs to be carefully wrapped and packed, so take your time. Tip: According to moving services in Canberra wrap your heavier breakables in towels and blankets to reduce packing time.
We wanted to provide you with a breakdown of how long it will take you to pack homes of various sizes because we recognize that not everyone has a three-bedroom house.
Size of your house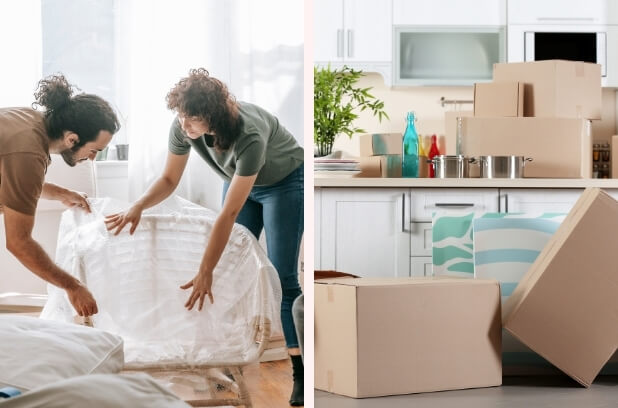 As a starting point, schedule one day for packing each room in your house. For instance, it should only take you one day to pack your possessions if you live in a studio apartment, which is a little easy. Depending on the size of the rooms, you should plan on needing at least three days if you live in a two-bedroom home. If it's your first-time packing, give yourself an extra day or two, and don't forget to allocate at least one day to pack the garage.
As per house movers, consider each day as consisting of eight hours when determining the total number of days. To put it another way, if you want to pack for your move over the course of three days but only spend four hours a day doing so, you'll need to set aside six calendar days.
Consider your rooms' actual dimensions as well. Typically, it will take less time to pack a 3 BHK, 1,200 square foot home than a 3 BHK, 3,000 square foot home. The larger home probably contains larger bedrooms with larger closets and considerably more stuff, even though the basic layout may be comparable.
The things in your house
The more items you have, the longer it will take to load them. Think about the contents of each room as you count the number of rooms. A practically empty guest room might only take an hour or two to pack, but the garage, with all of its cabinets, drawers, and shelves, might take several days. It simply depends on how much luggage you need to bring.
How much time you need to pack for a relocation depends on your lifestyle and interests as well. A sports memorabilia collector will have more items to relocate than a minimalist who owns less stuff. The collector will not have only more items to move but those items will require extra attention during the packing process.
Also, consider the number of people living in your house. It may not look like it, but if you have two children sharing a room, they probably have more stuff in that room than one child would. According to moving services in Canberra, this idea applies throughout the house. For example, if you live alone, you probably own far fewer plates and glasses than a family of four.
Finally, plan on moving to take the extra time if you are downsizing since you'll need to sell, donate, trash, or find new homes for the items that won't fit into your smaller space. It will need some time. The amount? How much stuff you've gathered over the years and how radically you're downsizing will determine that.
How well-organized are you
Being organized will make your relocation go more quickly. For instance, it will be much easier to pack a craft room with bags of supplies that are nicely organized than one that is overflowing with leftover materials and unfinished projects. Examine the contents of each area and determine how long it will take to sort through everything there.
A day should be added for each disorganized room. Have a bedroom with a door blocked by a mound of toys and clothing? Spend a day sorting through it and getting rid of anything that is damaged or doesn't fit. What about the "junk" area you always keep locked when guests arrive? To organize it, add a day. Once you've arranged, you'll also want to set aside an extra day to have a garage sale or donate stuff to Goodwill.
Whether you have assistance
With the assistance of a search for movers near me, you can cut your moving time by many hours or even days with their help. If a partner or friend helps out, cut the time it will take to pack your house in half, assuming it will take four, eight-hour days. Even if they only assist for one day, that one day still cuts down on the amount of time you have to dedicate to the project.
Depending on their age, your children may also participate. Older children are almost totally capable of packing their rooms. Add one day less to the number of days you think you'll require. They might even be able to assist you to pack other areas of the house, which will save you extra time. Sorting through toys or clothes is a good way for younger kids to contribute. You are not required to pack anything that they don't want.
To put it more accurately, depending on the size of the home, it typically takes
between 12 and 20 hours to pack a studio or one-bedroom apartment;
24 to 35 hours to pack a two-bedroom home (you might be able to pack a two-bedroom apartment in about 16 to 24 hours, but a two-bedroom house may take much longer as it may include an attic, basement, or garage);
35 to 50 hours to pack a typical three-bedroom home;
and 50 to 65 hours to pack a four-bedroom home.
However, if you have a lot of items or little packing experience, it can take you twice as long or even three times as long to finish packing.
A professional team of packers and movers takes time:
Two experienced house movers can pack a studio or one-bedroom apartment in 2-4 hours;
a team of three experienced professionals can pack a three- or four-bedroom house in 6-8 hours;
and a team of two experienced professionals can pack a two-bedroom apartment in up to 6 hours (a crew of three experienced professionals).
Of course, the packers and movers will want a little bit extra time to finish the packing work if you have numerous specialist goods that require special care to be packed safely for relocation.